All of Lavender Haven's products are hand blended in small batches.

Lavender is known in aromatherapy for balancing your mind, body and spirit.
It can easily brighten your mood and ease tension, insomnia, anxiety and headache. Because if its antiseptic and anti inflammatory properties it's used to cleanse and soothe minor cuts, burns, blemishes and insect bites.
We encourage you to enjoy the many benefits of Lavender!
Are you interested in bulk fresh or dried lavender for a wedding or special event?
If so, please
Contact Us
!
---


​Bath & Body Products
​
---
Lavender Eye Mask

Dried Lavender and flaxseed filled eye mask. These can be microwaved or refrigerated depending on preference for headaches or sinus pain. Place over eyes and breathe deep.

Hand & Body Lotion

Soak in this silky beautifully bold Lavender Lotion. Immerse your hands and body in the most versatile of essential oils and one of the most powerful remedies in the plant world! 

4 oz                      

Lavender Spritz

For Bed and Body! Spray on your pillow before bed for a good night sleep, spray on your body as a light scent, use to deter mosquito's from biting!

4oz

Grosso Lavender Essential Oil

So many uses I suggest looking on line for ideas               1 oz Glass Bottle

Body Balm

The ingredients in the balm is very healing.- The base of Sweet Almond Oil with the healing essential oils make this a great choice for gardeners. It is gentle enough for baby bottoms too! Soak in this salve on your hands, feet or elbows and feel the heal!1 oz Metal Tin

Solid Silky Lotion Bar

We use the finest butters and oils we can find to bring you this awesome lotion bar. You only need a little bit of this lotion bar to apply to you feet, hands, elbows, anywhere you need it. This bar last a long time so they come in a case to keep it clean. You will be amazed.                             

4 oz

Brown Sugar Scrub

 I use this daily on my face for cleansing. The sugar exfoliates and the oils cleanse and moistuizes. Great for hand and feet too.

4 oz

No Blemo

Use after cleansing your face, put small amount in palm and pat on troubled area.  Use everyday. Fresh clean scent with Aloe Vera, Apricot, Tea tree and other oils.


Bath Salts

Get ready to relax in the bath with this salt bath. So healing and relaxing.Place a couple scoops in bath water and soak                           

8 oz

Culinary Lavender

​Use this blend of Culinary Lavender in all your delicious recipes. Including lemonade, cocktails/ specialty drinks, deserts, and savory meals!  


Bow Wow Wow Dog Shampoo

The castille soap in this is gentle but cleansing. The essential oils are used to keep mosquitoes at bay and leaving them smelling fresh and clean.      

8 oz

Carpet Fresh

We grind up lavender and put it in a mix of borax, baking soda and essential oils to make your carpet, or auto smell great. Use in shoes also.

8 oz

Lavender Hand Sanitizer

Made in accordance with the CDC.With essential Oil of Lavender..... of course!
---
Lavender Haven's Skin Scents
---
These roll on perfumes are made with a base of Jojoba Oil and our blends for your enjoyment!
All .5oz & $12 each!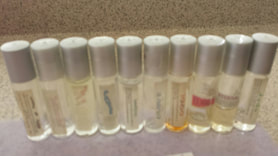 ---